Red Leaves--an autumn hokkai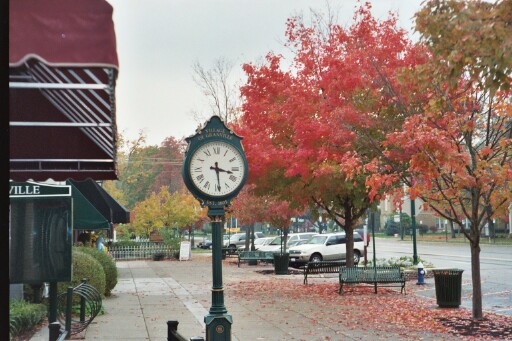 Autumn rain;
On the deserted sidewalk,
Red leaves.
Donna

Red leaves
reflected in the dark pond;
A chill wind.
Cynthia

A chill wind;
golden leaves hang above,
shimmering light.
T.

Shimmering light;
A crow caws at the end
Of the harvested field.
Donna

The harvested field--
chimney smoke slowly drifts
into the sunrise.
b'oki (Bette)

Into the sunrise
Flies a ragged vee of cranes:
A morning of frost.
Linda

A morning frost
glistens on the overhanging branch;
chattering birdsong.
Cynthia

Chattering birdsong;
Sparrows squabble in the roost
At early dusk.
Donna

Early dusk;
a cold wind on its way
to somewhere else.
Steve

To somewhere else,
a flock of starlings shifts--
soup on the stove.
b'oki

Soup on the stove;
Leafless tree branches whip
In stiff autumn winds.
Linda

In autumn wind,
A bittersweet bough loosens
In the briar patch.
Donna

In the briar patch,
the last rose bud preserved
by November frost.
b'oki

November frost,
A cloud crosses the moon
Into December.
hortensia
Other hokkai:
The Mallards' Wake--a summer hokkai
From pine to pine--a winter hokkai
A spring hokkai--Seen, Then Not Seen
Strands of Lobelia--a summer hokkai